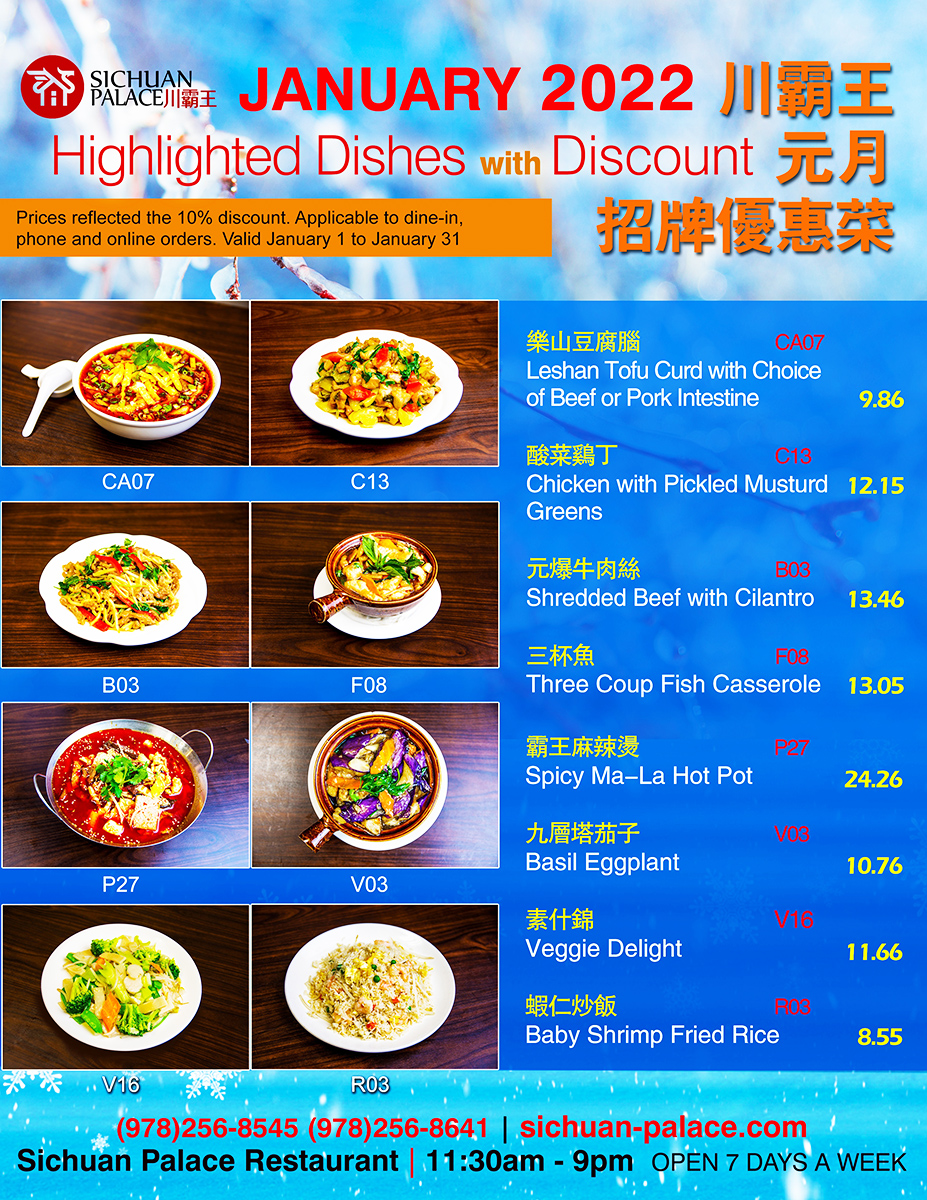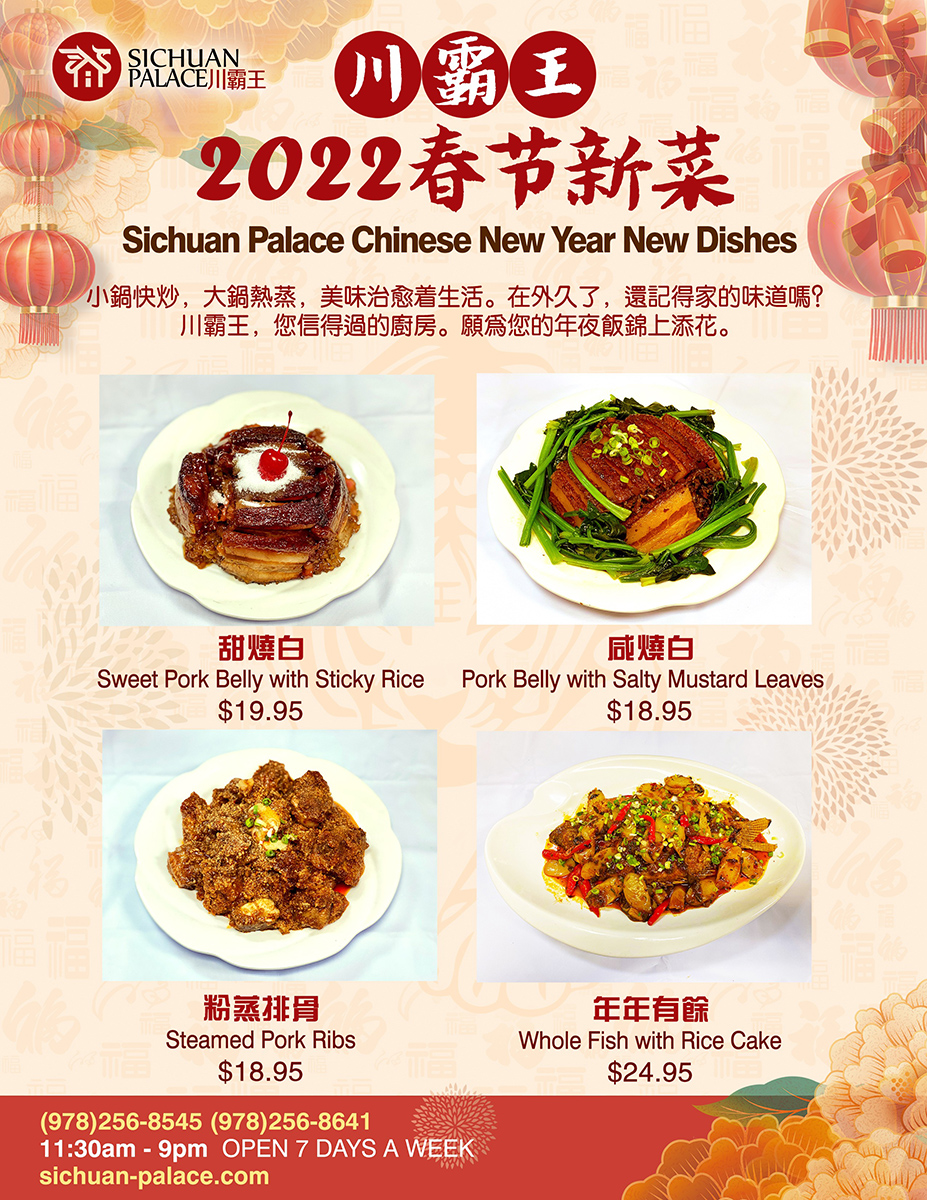 Welcome to Sichuan Palace
Quality & Innovation
IN RESPONSE TO THE COVID-19 PANDEMIC, WE HAVE TAKEN EXTRA MEASURES TO KEEP YOU AND OUR STAFF SAFE. Read more...
Business hours: 11:30am - 9pm, 7 days a week. The takeout order cutoff time is 8:30pm.
DINE IN menu
TAKE OUT call us (978)256-8545, (978)256-8641. menu menu pdf mobile-friendly pdf
ONLINE ORDER click here.
DELIVERY Door Dash, Grubhub, Uber Eats.
Highlighted dishes in January 2022
Get 10% off any of the following dishes (applicable to dine-in, phone and online orders) January 1 to January 31:



1

. Leshan Tofu Curd with Choice of Beef or Pork Intestine 乐山豆腐脑 CA07


2

. Chicken with Pickled Musturd Greens 酸菜鸡丁 C13


3

. Shredded Beef with Cilantro 元爆牛肉丝 B03


4

. Three Coup Fish Casserole 三杯魚 F08


5

. Spicy Ma-La Hot Pot 霸王麻辣烫 P27


6

. Basil Eggplant 九层塔茄子 V03


7

. Veggie Delight 素什锦 V16


8

. Baby Shrimp Fried Rice 虾仁炒饭 R03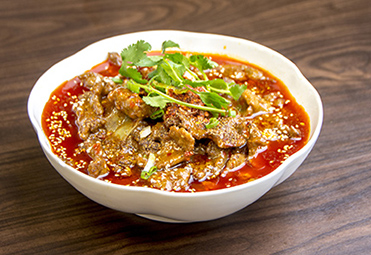 Sichuan Cuisine is one of the four major cuisines in China. It places emphasis on spice use and culinary technique to create a variety of flavors. The most famous flavor is Má-Là (麻辣). It is made from chili pepper and Sichuan peppercorn and it creates a spicy and numbing sensation. Its unique spicy flavor stimulates appetites and palates. Sichuan Cuisine is widely loved worldwide.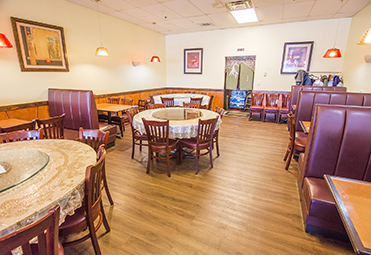 We strive to provide guest-centric, high quality homey restaurant experiences for our guests near and far. We put our hearts and talents into every dish we cook to help you feel the essence of authentic dishes from Sichuan and Taiwan. We emphasize quality ingredients and innovate on traditional recipes to make dishes best suited to our guests' tastes.
Our mission is to serve you healthy and tasty dishes to the best of our abilities. The dishes that suit your taste buds are the best. We proudly offer our guests abundant choices of quality dishes with a variety of flavors: spicy, salty, sour, sweet, smoky. If you are craving Má-Là, we have quite a few for you to try out. We can alter the spiciness upon your request.
our restaurant
IN NUMBERS
some words
from our guests
I love this place. The food is fantastic and we happily drive down from Nashua to get it. From what friends who have been to China have told me, this is the real deal when it comes to authentic Chinese food. The food is fresh, flavorful, satisfying, and the service is always good. Sarah D.
Try the authentic Sichuan dishes. Every dish we've tried has been very good and it emboldened us to try other dishes we otherwise would never have tried. Bawang chicken is spicy and tasty, whole fried filet of fish was awesome. Have had several of the sizzling dishes and hot pots and all have been excellent. Bob L.
If you want authentic, and I mean authentic Chinese cuisine then this place is it. You can find a flavorful regional preparation that will make you salivate. I particularly enjoy the Tea Smoked Duck and the Hot Pots, but hey, everything on the menu appeals to me. The dining room is simple and tasteful, it is clean, and the staff are just the best. Nowhere locally can beat the Sichuan Palace! Lee W.
The place offers a large range of fresh food. I enjoy dining here. The employees are always very nice, pricing is convenient and the spot is always clean. Peter L.
Our Head Chef
Head Chef Tairong Li has been passionate about cooking since his young age. He is the heart of our restaurant, crafting delicious and healthy dishes to serve our guests. His creative energy and high standard of quality are the lifeblood of Sichuan Palace. Tairong Li
make Reservations, call us
978-256-8545, 978-256-8641